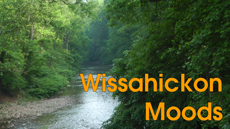 Video by Brian Siano
Music by Chris Zabriskie
Video copyright 2014 Brian Siano
Music licensed through Creative Commons
51 Minutes.
Available for hi-def streaming via VHX,  Amazon Instant Video, and Vimeo On Demand!
Available as a standard-def DVD through Amazon and Amazon Createspace.
Pennsylvania's Wissahickon Creek is the setting for a beautiful ambient video by Brian Siano, enhanced by the music of composer Chris Zabriskie. Travel from the waterfalls as water swirls and glides smoothly over the stones. Enjoy the majestic colors of the Wissahickon's trees, and the giant stones which the river has carved into rippled, fascinating shapes.
Edgar Allan Poe said, of the Wissahickon,
"I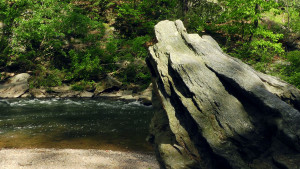 ts banks are generally, indeed almost universally, precipitous, and consist of high hills, clothed with noble shrubbery near the water, and crowned at a greater elevation, with some of the most magnificent forest trees of America… The immediate shores, however, are of granite, sharply-defined or moss-covered, against which the pellucid water lolls in its gentle flow, as the blue waves of the Mediterranean upon the steps of her palaces of marble… The windings of the stream are many and abrupt, as is usually the case where banks are precipitous, and thus the impression conveyed to the voyager's eye, as he proceeds, is that of an endless succession of infinitely varied small lakes, or, more properly speaking, tarns."
This relaxing collection of visuals and music can be enjoyed at home as an aid to exercise, meditation, or sleep. Health spas and gyms will enhance their clients' workouts, and doctors' and dentists' offices can help calm their patients in their waiting rooms. It can be viewed as a simple appreciation of nature.
Current Availability
Trailer, YouTube: http://youtu.be/Qbj9GPTF1A0
Trailer, Vimeo: http://vimeo.com/118276062
Hi-def Streaming via VHX: http://wissahickonmoods3.vhx.tv
DVD for sale via Amazon: http://www.amazon.com/gp/product/B00T8N8N0O/ref=ox_sc_act_title_1?ie=UTF8&psc=1&smid=ATVPDKIKX0DER
DVD for sale via Createspace: http://www.createspace.com/427517